"The Left-Handed Fate" by Kate Milford - pre-order your copy now!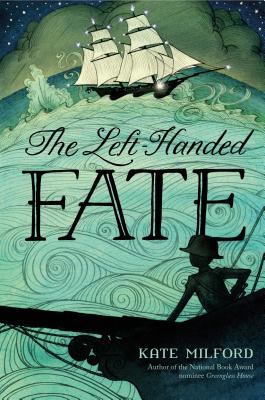 Pre-order your signed, personalized copy of Kate Milford's The Left-Handed Fate!
In The Left-Handed Fate, Lucy Bluecrowne and Maxwell Ault are on a mission: find the three pieces of a strange and arcane engine they believe can stop the endless war raging between their home country of England and Napoleon Bonaparte's France. During the search, however, their ship, the famous privateer the "Left-Handed Fate," is taken by the Americans, who have just declared war on England, too. The "Fate" (and with it, Lucy and Max) is put under the command of new midshipman Oliver Dexter . . . who's only just turned twelve.
But Lucy and Max aren t the only ones trying to assemble the engine; the French are after it, as well as the crew of a mysterious vessel that seems able to appear out of thin air. When Oliver discovers what his prisoners are really up to and how dangerous the device could be if it falls into the wrong hands he is faced with a choice: Help Lucy and Max even if it makes him a traitor to his own country? Or follow orders and risk endangering countless lives, including those of the enemies who have somehow become his friends?
The Left-Handed Fate releases on August 23. Customers who pre-order The Left-Handed Fate from Oblong Books will receive a bookmark in the form of a prayer card for Saint Pontila of Nagspeake, Patron Saint of Messages Sent in Bottles. (To be clear, she looks out for the messages, not the senders or receivers, so invoke her at your peril.)
Order by August 20
for personalized signed copies.
Orders received after August 20 will be signature only.
Books will be shipped on August 22.
$16.99
SKU: 9780805098006a
---